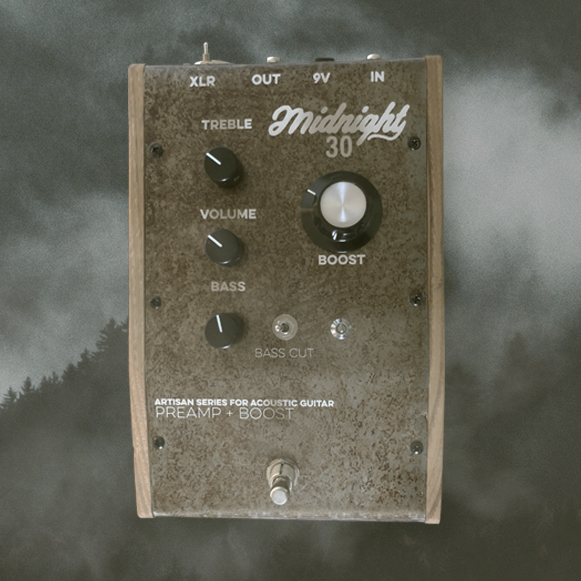 Artisan Preamp & Boost
Introducing the first pedal in a new line up we call, The Artisan Series.
The idea behind this series is developing a set of pedals that are specifically made for acoustic players. Some of the must haves for us acoustic players are: (1) Pedals have to be 100% analog. We don't want to run our gorgeously crafted acoustic instruments through a digital processor. (2) They need to be simple to use. (3) They need to have a warm, clean and clear sound, something that lets the character of an acoustic instrument shine through. (4) We want them to be crafted with the same artistry and care that our acoustic instruments were made with. We want them to look different. We want to step on something beautiful.
That's the heart behind The Artisan Series and the first pedal in this line is all about the foundation of your acoustic tone. It's a preamp + Clean Boost with a transformer based balanced line out.
100% hand-crafted down from the assembly of the circuit boards to the construction of the enclosure. At it's core it has an all analog, easy to use preamp that's always on. It has controls for treble, volume, bass and a bass cut toggle. It's based off of the old boss FA-1 preamp that they stopped making in the mid 80's. Next it has a clean boost that is turned on and off with this soft touch switch. We felt this was important for those times when you want to switch between strumming and finger picking.
On the back of the pedal panel there is an IN, a 9V jack, an OUT (unbalance out) and an XLR jack that is a balanced line out. While we were developing this we felt it was important to keep the balanced line out analog with a transformer that is custom made for us by Crimson Audio Transformers.
The enclosure is hand bent American made steel, powder coated with this textured blue color and screen printed with glossy white ink. These are made by us at our shop, not mass produced by a company somewhere else in the world. The sides are made from reclaimed chestnut and finished with bee's wax.
I hope you love this pedal as much as I do! It's been a labor of love and I can't wait to hear what you all can do with these pedals.
Ships in 10-14 days.
Want to add a bag of Guitars For Glory coffee to your order? Click here!