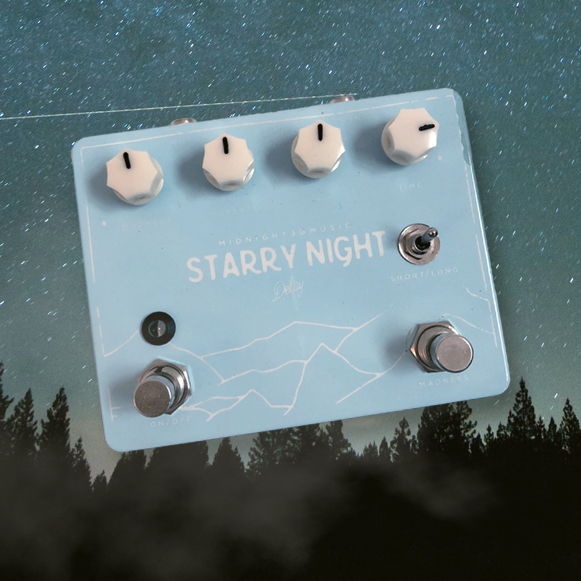 STARRY NIGHT DELAY
The Starry Night Delay is the middle sibling to its younger (Starry Night Delay Jr), and the older (Starry Night Delay Deluxe), with a couple of unique features!
This new version has some major improvements over the original that include: Tails (delay signal trails off when you turn the pedal off), and some major tweaks to the repeats. It now has full spectrum control over the repeats of the delay signal and is filtered in such a way that it has a slight tape delay feel. It also has a toggle control (short/long) that increases the range of the delay times. It has 4 knobs that control Mix, Repeats, Time, and Madness. The Madness controls on the Starry Night Delay is a momentary detune of the delay signal. When you press on the switch it charges up and when you let it go it detunes your repeats down and then returns back to normal at the speed you have the madness knob set. This allows for some very creative sounds to be used in ambient playing.
It has been tested with great success on electric guitar, acoustic guitar, bass, keyboards and even cello.
The Starry Night Delay starts with a professionally fabricated circuit board and is made with the finest electronics parts, switches and wire. It's hand built, on at a time on the workbench at my home in upstate NY!
Powered by a standard 9v negative tip (boss style adaptor)
Current draw is around 40 mA
This pedal will ship 7-10 days from the order date
REMINDER: This version is NOT equipped with tap tempo
Want to add a bag of Guitars For Glory coffee to your order? Click here!