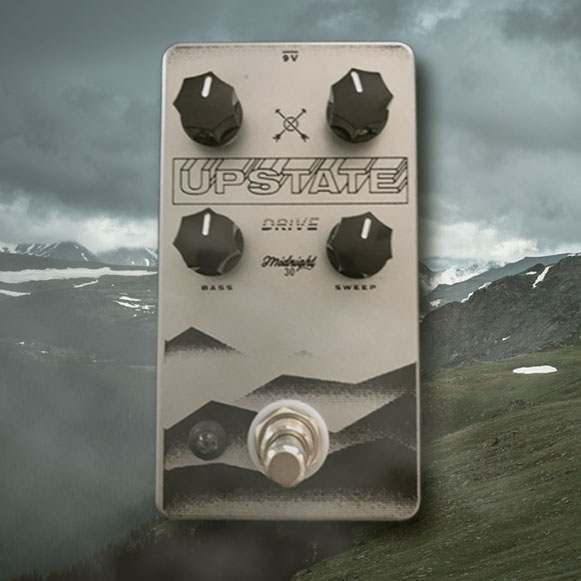 UPSTATE DRIVE
Introducing the Upstate Overdrive! It's based off of the much loved Noble's ODR-1 overdrive but with many tweaks and improvements. The Upstate Overdrive is a medium gain pedal with an incredible, harmonic "tube-like" warmth. It sounds just as amazing dimed out as it does set to a light break-up overdrive tone. It is a finely tuned, high parts count circuit with complex tone controls that you won't find in most overdrive pedals.
Here are some of the improvements to the original ODR-1.
One of the biggest issues with the original is its unreliability. They break easily making them ok for studio but not the stage. The Upstate has been designed to take abuse of gigging!
The "BASS" knob controls the bass response in the circuit. One of the things that people love about the ODR-1 is how full of a bass response you can get. It beautifully compliments bright guitars like the Tele's. The original had no way to adjust the amount of bass control but not with the Upstate!
Also improving on the original is the "SWEEP" knob. This is a very non-standard tone control of sorts. You can pan between a lowpass filter and a high-pass filter, which is mixed with fixed upper mids. This knob is much more dynamic of a tone control than the standard overdrive pedal allowing the user to find unique setting that are hard to match.
The clipping section has a surprise addition using a vintage, glass germanium diode giving it another unique character.
This complex overdrive pedal is made with the finest parts we can get our hands on, has top mounted jacks, a soft-touch true bypass switch and is powered with a standard 9V negative tip power adaptor. Power consumption is around 45mA.
Want to add a bag of Guitars For Glory coffee to your order? Click here!